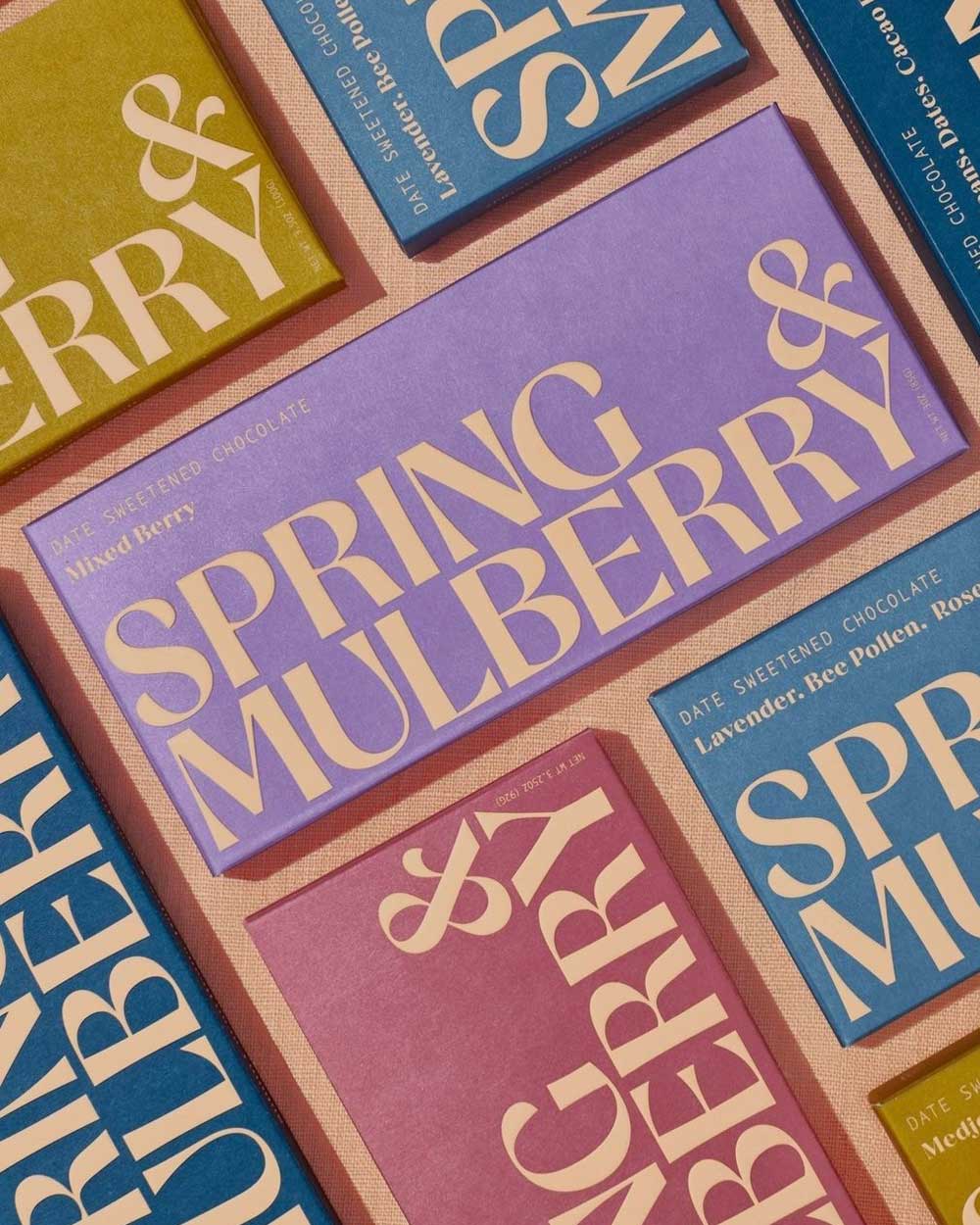 SPILLIN' THE SAUCE | SPRING & MULBERRY
We loved collaborating with you on the limited-edition set of Spring & Mulberry x ATELIER SAUCIER dessert napkins, inspired by your signature sunset-inspired packaging. How do you approach creating new flavors of your bars? 
Our brand is all about exploring a world of sweet beyond sugar and our chocolates are sweetened only with dates and fantastic-for-you ingredients. Each flavor showcases a different facet of sweetness. For example, the lavender rose petal bar is floral and aromatic. The mixed berry bar is fruity & tart. And our mango urfa chili lime bar is spicy & tangy. When we go to develop a new bar we want to search for a new facet. In addition, each of the ingredients should add something, whether it's texture, flavor, health benefits, or a fun wow factor.
How did you get started in the chocolate industry? 
My business partner, Sarah, and I worked in luxury goods and consumer products for years (LVMH, Estee Lauder, Siggi's Yogurt). On a trip to Dubai in 2012, I was inspired by the way dates, fruits, and nuts were presented like candy in a chocolate box. Fast forward a few years and I was diagnosed with cancer in my early thirties, which led me to quit refined sugar and explore the healing power of foods. As food gifts arrived to my door, I realized the need for a beautiful, giftable brand made of whole, fantastic-for-you ingredients. From there, we tested different products and formats, and landed on date-sweetened chocolate as our first product.

Where do you find inspiration? 
From our travels abroad, our love of home décor and textiles, and our habit of reading cookbooks before bed.
Some of our favorites are Six Seasons by Josh McFadden, Salad Freak by Jess Damuck, and Love to Cook It by Samah Dada.
Advice for those with aspirations to get into your line of work? 
If you have a dream or a vision, my recommendation is to out in the world, get feedback, make improvements, and keep iterating until you feel the magic.
Fav party trick? (Aka what's your secret sauce hosting tip?)
My favorite party trick is hosting a potluck (but a very chic potluck). It takes the pressure off the host, creates a great conversation starter, and I always end up with a new favorite recipe.
Dream dinner guest? 
My paternal grandparents who I never had the opportunity to meet. My grandmother was a singer and my grandfather was a character, so I'm pretty sure the conversation would be great.
Five items you always have in your kitchen?
Chocolate of course. And, salt flakes, rosemary bread, papaya pears or berries depending on the season, Ghia, and rancho gordo beans (thanks to Sarah's recommendation)
Is there an experience you've had in your careers that you are most proud of? 
I'm actually most proud of taking some time off mid-career during my health challenges. It allowed me to step away from the corporate ladder, take up oil painting, and really figure out my true north. For this one, precious life.
Describe your brand/brand ethos in three words. 
Dreamy. Transportive. Welcome. Curious.
Your last google search. 
Cheeni Indian Food Emporium - a new restaurant in Raleigh that was just nominated for a James Beard award. Sarah and I are going with our husbands as a belated holiday dinner.
What are some upcoming projects you are excited about?
We're launching a new flavor just ahead of our first birthday in March. It's inspired by after-dinner digestifs and is just delicious.
Shop
Spring & Mulberry
Chocolate.