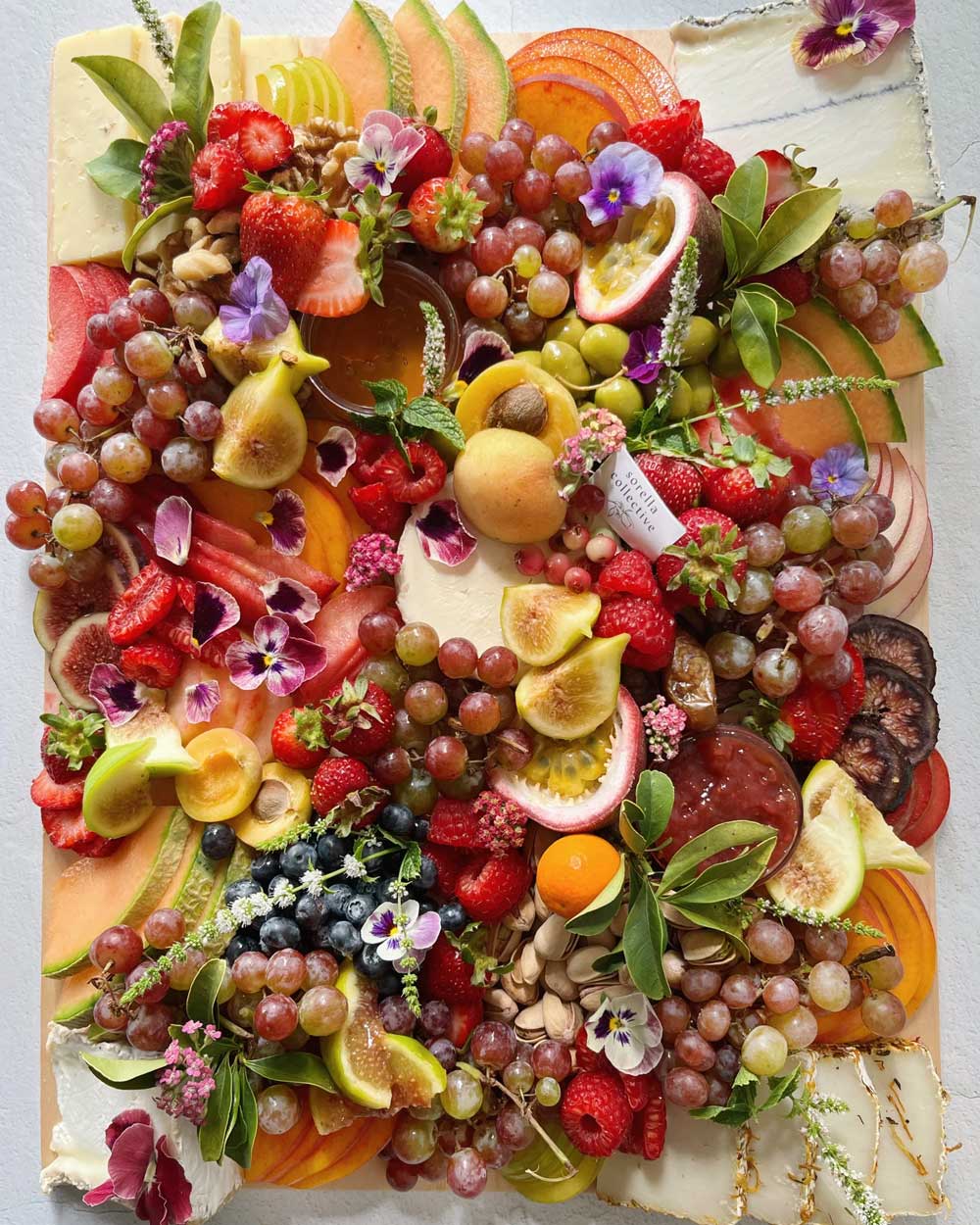 SPILLIN' THE SAUCE | SORELLA COLLECTIVE
How did you get started in creating farm to board graze boards? 
Sister #1 here! We started creating farm to board graze boards out of our lifelong love of farmers markets and the incredible access to seasonal produce here in Southern California. I always loved styling whether it's tablescapes, holidays, floral you name it. I wanted to take the beauty of the farmers market and display it somehow, ha! Of course cheese boards were always something we loved making and thought how needed it was as an addition to the bustling events industry here in LA. We mainly set out to do just events but needed more weekly work and it just kind of snowballed from there.
Where do you find inspiration? 
I find inspiration from our weekly shopping trips to The Santa Monica Farmers Market. It's always such an electrifying, lively and beautiful couple hours that has become such a ritual for us creatively. The subtle changes of the season, movement, color & textures of the produce is so important to our work. I'm also hoping my 3 week trip to Italy will be a deeper dive into myself creatively. Excited to bring back all the inspiration.
Advice for those with aspirations to get into your line of work? 
I would say, find your style & find what works best for your customers! Tweak as needed and try to build meaningful  relationships with wholesalers, distributors, farmers. They are the backbone of  the business after all! Having people who are there for you is so vital. 
Describe your brand/brand ethos in three words. 
Seasonal. Sustainable . Intentional 
What are some upcoming projects you are excited about? 
Ah! Honestly something we talked about over dinner with you gals ;) nothing better than brainstorming with like minded women business owners. Cheers!
Learn more about Sorella Collective.